With the Lakers about to do battle with the Celts in the finals, one can't help but look back at this past season and the most important player on the Lakers.

Kobe Bryant? No, not him.
I'm actually talking about the Memphis Grizzlies. The doof that was presiding over the mess was owner Michael Heisley, but I prefer to him as "that owner who had to be drinking on the job".
The Grizzlies, of course, were the moronic team responsible for sending Pau Gasol to the Lakers for the pile of gold known as Kwame Brown, Javaris Crittenden, two LAAAATE first round picks, a ball of pocket lint, and a 1987 edition of TV Guide. Everyone in the NBA was up in arms, especially one particular Spurs head coach who wound up losing in the playoffs because of that same ridiculous trade. It was highway robbery that made Bonnie and Clyde shake their heads (well...they would have if they were alive...you get the point).
Well, I guess the "denial" stage is over for Heisley and with the Lakers OBVIOUSLY becoming a potential dynasty out of the deal, he has moved on to "acceptance".
Heisley has recently admitted
, and I quote:
"I don't know if I got the most value," Heisley confessed. "Maybe our people should've shopped (Gasol) more and maybe we would've gotten more, done a better deal. Maybe Chris did call every team in the league. I don't think he did, but maybe he should've…"
Doesn't a quote like this inspire you, Grizzly fans? You have the owner of your team saying that the trade that sent the most important and gifted player in your team's history (if you don't count Big Country Reeves) most likely wasn't really all that thought out. He also confesses in that beautiful quote to not really knowing if they did all of their homework. Ahem...shouldn't that be the ONE question you ask before your team does the deal? "Did you guys check with everyone and this is the absolute BEST we could do? Kwame friggin Brown?"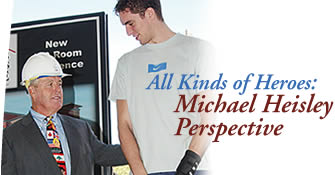 The best part of all of this is that the team turned DOWN the Bulls' trade offer, which included a comparable cornucopia of talent in Andres Nocioni, Tyrus Thoms, Joakim Noah, Thabo Sefalosha, Adrian Griffin, and draft picks. Yes, ladies and gents...they looked at that offer and said, "Nahhhhh...I think we really want to roll the dice with Kwame Brown on this one. Thanks anyways, guys."
I have to stop typing here before I get to emotionally drained from analyzing this whole thing, and I'm not even a Grizzly or Spurs fan. (soaks head in a bucket of ice)