Today three teams unveiled their new uniforms for the upcoming season. -Well, they didn't so much UNVEIL them as a ton of internet fanboys and fangirls found internet photos of rookie photo shoots in which the NBA made the players be in the uniforms they would be wearing this upcoming season. Only the Orlando Magic seemed to get away from it without revealing the full monty, saving it for later.
So let's take a look, shall we?
Sacramento Kings
Hmm...not really all that much different here. With the black collar and lack of anything near the shoulder area, this sorta looks like one of those cheap t-shirt jerseys that you can get at Sports Authority, Modells, and other sporting goods stores. This jersey is really more of a metaphor for how the Maloofs and those within the Kings organization are treating the team as of late: "We really don't give a crap about the team...so just toss some generic product out there and call it 'New and Improved'". I maintain my sympathy for Kings fans who are watching their team once again plummet to the depths after a really successful run during the Divac days.
Minnesota Timberwolves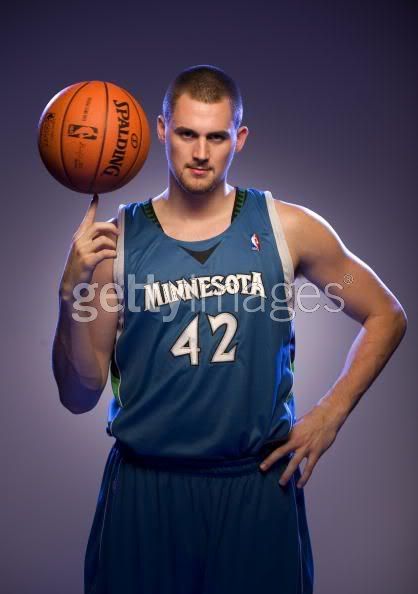 The team scored some points for the new logo they unveiled, even if it was a carbon copy of the Mavericks logo, but this...well THIS is just friggin' awful. Look at that name font. Look at that drab color. For heaven's sake, LOOK AT THAT COLLAR! If there was ever a mish-mash of Kevin McHale's insanity, this is it. I was hoping they would keep the pine trees, as it was a rather creative and original idea to have them on the jersey in the first place, but they are somehow partitioned off to the sides of the collar. The only thing that could possibly make this sillier is if the jersey was modelled by some out of shape guy who is staring down the camera like a creepy outtake from "Deliverance". Someone get Kevin Love on the phone, stat!
Orlando Magic
We're only getting a look at the tippy-top of this jersey since the team is keeping it a secret until a former unveiling, but already America can see into the future: These new Magic jerseys are going to look a bit weird. It looks like Magic rookie Courtney Lee had a zipper on the front of his jersey and pulled it down, as if to say, "Take a look at my manly chest hair." Now imagine an entire TEAM of people looking like they are showing off their chest hair (especially hairy folks like Turkoglu) and you have what will either be the ugliest collection of jerseys or the best retro disco-era jersey of all time. As a Magic fan, I'm hoping for the latter. If they replace the basketball in the Magic logo with a disco ball, consider me sold.