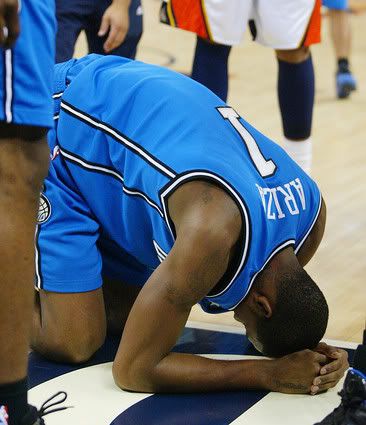 Today the Los Angeles Lakers and Orlando Magic agreed on a deal that sent Trevor Ariza and Orlando's injury exception (acquired when Tony Battie got hurt) to the Lakers for Brian Cook and Maurice Evans.

On paper, this trade makes it look like the Magic just got slashed with a ginsu knife.
Ariza, while not a fantastic shooter, is incredibly athletic and plays like an uncaged beast. He rebounds, blocks shots, plays good defense, and flies all over the court. He is also approximately 20 feet tall, and has sired over 800 children all over the midwest while traveling with his blue ox, Babe.
On the flipside, Lakers fans use Brian Cook trading cards to wipe their nose. He is a tall outside shooter who can't play defense and can't rebound...always a good thing! Maurice Evans, while great in spurts, is inconsistent and gives the Magic a glut of shooting guards.
You never know, Stan Van Gundy has found a way to actually make shitstains Keith Bogans, Pat Garrity, and Adonal Foyle into good, respectable pieces on a championship calibur team. These two guys could experience similar resurgences in their careers.
For now, though, Lakers fans should be dancing in the streets like their town just lifted the ban on dancing (real men give "Footloose" shout-outs).