I have watched the ol' "NBA basketball" with many people, and seemingly all have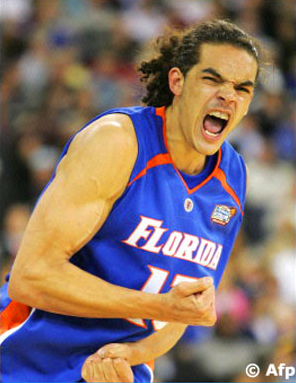 said of Joakim Noah, "Wow. That guy yells and pumps his fist all the time. He seems to do it whenever he farts, let alone scores. I wonder if that gets annoying after a while." To this I usually respond by taking a swig of beer, and then pumping my fist and doing a primal yell.

This action by the Bulls team completely floors me. The NBA is a land of crazy personalities and assholes, and in the midst of that the team still said Noah just was too bad to be on the floor. On top of that, I thought the team would really take dictator-Skiles' departure as a cue to relax a bit on discipline, but it looks like they are going in the opposite direction.
The reason I just do not want to see Joakim Noah on the floor is that he looks like that ugly lunchlady you inevitably had at some point in high school/grade school growing up.
I figure that the less of Noah I see on the court, the less I am emblazened by flashbacks of finding hairs in my food and realizing they came from the creepy creature with the mashed potato scoop.
--------------------------------------
Author's Note: To back up the beginning of this article, I set out to find one photo or two of Noah doing a yell and a fist pump. What I found were THOUSANDS of such photos. No wonder this guy's team told him to shut up and pass the gatorade.