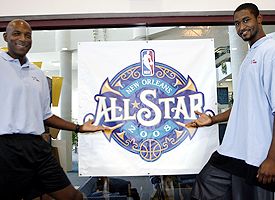 We are pumped for this year's All-Star Game in New Orleans.

PUMPED
as there are a bunch of dunks that are suddenly too extreme for a competition as incredibly serious and law-abiding as the dunk contest, such as
raising the basket to 12 feet
.
PUMPED
since even the Rookie-Sophomore game (a game that usually sucks ass and leads most people to say that they should get rid of it) ended with an exciting high-scoring
136-109 sophomore
win, highlighted by Daniel Gibson's 33 points and Yi Jianlian's ability to remind people he still exists. NFL brass would kill to get anywhere near the hype and audience of the NBA All-Star Weekend, going so far as to remove their heads from the protective warmth of Tom Brady's jockstrap.
That aside, the primary goal of this All-Star Game really isn't as much to inject a steady flow of cash into the rebuilding of New Orleans, but rather to save the Hornets from being shipped out. As
Anubis Taylor pointed out
in an earlier article,
if the Hornets fail to average 14,735 fans per home game through the 2008-09 season, the team is free to leave to move elsewhere
. Right now, they are averaging a craptacular 12,645 after 25 home games. This would be a good amount if they were the Knicks, Grizzlies, or another team that only has morons buying tickets at this point, but as you likely know the Hornets are doing incredibly well this season. Yes, they have players that are nearly impossible to market like Peja Stojakovic, Tyson Chandler, and David West, but that isn't much of an excuse. If the NBA markets Bill Walton in any way, shape, or form, then the Hornets deserve thrice the attention.
To be honest, I attribute the lack of local interest in the Hornets to one thing: Their image hasn't changed enough since they were the ridiculous Grandmama led team in Charlotte:




The Hornets need to update their friggin' logo. While they have this incredibly cool and unique logo tucked away in random places on cool equipment..

...they still insist on using this ugly Georgia Tech Yellow Jackets rip-off bee that looks sorta like the early 90s cartoon
"Denver The Last Dinosaur".
For our sake, Hornets, change your image so that we can enjoy years and years of rooting for you.
Here's to an exciting All Star Weekend!